Description
This entry option is only for people that live within the South Swindon Parish Council (SSPC) boundary, a
ll entries will be checked and addresses validated.
We will cancel and refund any invalid entries if notified as invalid by SSPC.
If you are unsure whether or not you live in South Swindon Parish, you can check your Council Tax Bill or the SSPC Bounday Map, or check your postcode here.
At the heart of the south west's huge running community and with a famously fast course, Swindon is the perfect place for your next half marathon.
Starting and finishing in the Town Centre, the closed-road course is mostly flat with an incredible downhill final mile! The route takes you past some of the town's attractions - the beautifully restored Grade II listed Museum of the Great Western Railway, the Magic Roundabout, voted 4th scariest junction in Britain (don't worry it'll be closed to traffic!), the County Ground, home to Swindon Town FC since 1896, the chic Swindon Designer Outlet and the charming Old Town, the cultural heart of Swindon.
The race won the Bronze award in the 2018 Running Awards Best Half Marathon Category (< 5000 participants) and continues to grow each year.
The original Anglo-Saxon settlement of Swindon was built on top of a limestone hill and referred to as Suindune, derived from the Old English words "swine" and "dun" meaning "pig hill"! You'll love trotting around with runners from Swindon and across the south west, make the most of the town for post-run troughing and a brilliant day out.
Swindon Town Centre provides free parking for several thousand cars. The new car parks in Princes Street, or to the rear of Debenhams, are just a 0.4mile walk to the start and a 0.3mile walk from the finish.
On entering this event you should receive a booking confirmation email within 10 minutes. If you fail to do so, please check your spam/junk folder. Further event details will be communicated by email (to the address provided during registration) in the week leading up to the race.
Race Details
When: Sunday 20 September 2020 at 09:30.
Where:
START - Swindon County Ground (postcode SN1 2ED).
FINISH - Commercial Road.
Pricing: £29.00 Unaffiliated, £27.00 Affiliated.
Entry on the Day: Discounted SSPC entry available online in advance only.
Age Requirements: Participants must be aged 17 or over on the day of the race.
Registration: From 08:00 to 09:15.
Race Numbers: Participants who register on or before 30 August 2020 and provide a valid UK address can expect to receive their race pack by post to the address provided during registration. Participants who provide an incomplete, invalid or non-UK address, together with anyone registering after 30 August 2020, will need to collect their race pack from registration on the day. If you expect, but fail to receive your pack by 14 September 2020, please contact us in order that we can prepare a replacement for collection on the day. To be fastened to the front of your top using the safety pins provided in your pack/at registration, your number should be visible at all times. Your timing chip is attached to the back of your number and should not be removed.
Timing: Chip-timed.
Route: The course is traffic free, on closed roads and paths (with the exception of emergency responders and vehicles with specific permission). Please always be vigilant of other runners, spectators, dogs, cyclists and other users of public footpaths and rights of way.
Licensing: This race will be licensed with UK Athletics and the results submitted to Run Britain within a week of the race.
Pacers: Subject to availability, we expect to have pacers at this event.
Facilities
Bag Drop: We recommend bringing as little as possible, however, in order to reduce contact points and ensure the event is COVID-Secure bag drop may not be provided, to be confirmed..
Toilets: Portable toilets will be available at the start and finish area.
Race Marshals: Marshals will be present on the course throughout the race.
Distance Markers: The route will be clearly indicated with arrows, tape and distance markers where necessary.
Water Stations: There will be water stations on the route at regular intervals at which water will be provided in recyclable plastic cups.
Finisher Goodies: All runners will receive water and snacks on finishing the race.
Refreshments: Refreshments will be available at the start and finish.
Changing/Showers: There are no changing rooms or showers at this event.
Lost Property: Lost property from an event will be kept for one month. If unclaimed, or ownership cannot be determined, lost property items will be donated to charity.
Results/Prizes
Results: Results will be uploaded live to our website (internet connection permitting) and, where possible/practical, timing print-outs will be available at the race. In all cases, results will be communicated to all pre-registered participants within 24 hours of the event.
Medals: All finishers will receive a medal on completing the race.
Prizes: Prizes will be awarded to the top three runners overall and the top runner in each of the veteran categories (V40/V50/V60/V70) for both males and females. Where possible, we will endeavour to present individual race prizes as soon as validated on the day.
T-Shirts
All participants will receive a bespoke medal as they cross the line.
Special souvenir Nationwide Buidling Society New Swindon Half Marathon T-Shirts and Hoodies are available for purchase during the order process. Please note that pre-purchased T-Shirts and Hoodies must be collected at the Race Village on the 20 September before the 09:30 start.
Pace Pockets are also available for purchase from www.pacepockets.run. Pace Pockets are fabric wristbands with a storage pocket for all your running essentials, such as keys, cards, cash or gels, printed with your choice of marathon or half marathon splits. Use promo code PPZERO during purchase to facilitate FREE DELIVERY on all orders.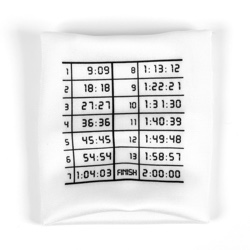 - Fabric wristband with storage pocket.
- Half Marathon split times printed on one side.
- Available options from 1h30 to 2h30.
Getting to the Race
Directions: Please visit the Swindon County Ground website for further information on getting to the race.
Parking:
Swindon Town Centre provides free parking for several thousand cars. The new car parks in Princes Street, or to the rear of Debenhams, are just a 0.4mile walk to the start and a 0.3mile walk from the finish. The following are a list of car parks located within a short walk from the start and finish areas. If you are driving, please allow yourself plenty of time to get parked and get to the start line in time for the race and any last minute checks:
Brunel North Multi-Storey Car Park SN1 5AH
Flemming Way Multi-Storey Car Park SN1 2HG
Britannia Place Car Park SN1 4BS
The Parade Multi-Storey Car Park SN1 1RT
Brunel West Multi-Storey Car Park SN1 5AH
Further Information
Buggies/Pushchairs: This race is suitable for runners with buggies/pushchairs. You may be asked to sign a disclaimer, start at the back of the field and be vigilant of other runners overtaking during the race.
Wheelchair Users: This race is suitable for wheelchair users. You may be asked to start at the front of the field 5-10 minutes before the scheduled start time and be vigilant of other runners overtaking during the race.
Earphones/Headphones: Noise-cancelling earphones/headphones are prohibited and whilst we discourage the use of other earphones/headphones at this event, participants choosing to use them should ensure they are set to a minimum volume such that instructions from marshals or other race officials can be clearly understood. We reserve the right to disqualify participants who cannot hear instructions as a result of their use.
Event Time-Limit: Whilst there is no strict time-limit for this race, in order that we adhere to the restrictions imposed by the venue hire agreement, it may be necessary for us to begin deconstruction of the course and finish area after approximately 4 hours in order to reopen roads by the agreed time.
Social Media
For further information about our races or any race updates, please check our social media accounts;
Join our Strava club to see how your fellow competitors are training and compare your race day performance.