Description
Through the disused Great Central railway and the closed town and country roads of Britain's railway centre, this is the half marathon you can't afford to miss.
Exclusive commemorative 2021 medal
Finisher's technical running t-shirt
Chip-timed results available instantly after you finish
Goody bags, race village refreshments and spectator-friendly course
Starting at Hart field, you'll quickly find yourself out on to clear country roads and flying round to return to the town centre on 'a linear nature reserve' - the old railway line that is now a recognised wildlife hotspot.
On entering this event you should receive a booking confirmation email within 10 minutes. If you fail to do so, please check your spam/junk folder. Further event details will be communicated by email (to the address provided during registration) in the week leading up to the race.
Race Details
When: Sunday 31 October 2021 at 09:30.
Where: Hartfield, Lower Hillmorton Road, Rugby, Warwickshire. CV21 3TR.
Pricing: £30 Unaffiliated, £28 Affiliated, £0 Gold Members.
Entry on the Day: Subject to a £2 surcharge (cash only, subject to availability).
Age Requirements: Participants must be aged 17 or over on the day of the race.
Registration: From 08:00 to 09:15.
Race Numbers: For collection at registration on the day only, numbers will not be posted. To be fastened to the front of your top using safety pins provided at registration, your number should be visible at all times. Your timing chip is attached to the back of your number and should not be removed.
Timing: Chip-timed.
Route: The course is traffic free, on closed roads and paths (with the exception of emergency responders and vehicles with specific permission), and consists of an outward leg, two laps of the primary central loop and a different return leg. Please always be vigilant of other runners, spectators, dogs, cyclists and other users of public footpaths and rights of way.
Spectators: Spectators can watch from anywhere on the course and should see runners pass twice if situated on the main loop.
Licensing: This race will be licensed with UK Athletics and the results submitted to Run Britain within a week of the race.
Pacers: Subject to availability, we expect to have pacers at this event with target half marathon times between 1h30m and 2h30m.
Facilities
Bag Drop: Whilst we recommend bringing as little as possible, you can leave your belongings with us while you race using the tear-off baggage strip on your race number, collecting after you finish by presenting your race number.
Toilets: Portable toilets will be available at the start/finish area and at approximately 4/11 miles on the course.
Race Marshals: Marshals will be present on the course throughout the race.
Distance Markers: The route will be clearly indicated with arrows, tape and distance markers where necessary.
Water/Fuel Stations: There will be water/fuel stations on the route approximately every 2.5 miles, at which water will be provided in recyclable plastic cups.
Goody Bag: All runners will receive snacks and refreshments on finishing the race.
Refreshments: Refreshments will be available at the race hub on Hartfield throughout the event.
Changing/Showers: There are no changing rooms or showers at this event.
Lost Property: Lost property from an event will be kept for one month. If unclaimed, or ownership cannot be determined, lost property items will be donated to charity.
Results/Prizes
Results: Results will be uploaded live to our website (internet connection permitting) and, where possible/practical, timing print-outs will be available at the race. In all cases, results will be communicated to all pre-registered participants within 24 hours of the event.
Medals: All finishers will receive a medal on completing the race.
Prizes: Prizes will be awarded to the top three runners overall and the top runner in each of the veteran categories (V40/V50/V60/V70) for both males and females. Where possible, we will endeavour to present individual race prizes as soon as validated on the day.
T-Shirts/Pace Pockets
All finishers will receive a free t-shirt, please select your size during the order process.
Special souvenir t-shirts and hoodies are available for purchase during the order process. Please note that pre-purchased T-shirts/Hoodies must be collected at this event and will not be posted.
Pace Pockets are also available for purchase from www.pacepockets.run. Pace Pockets are fabric wristbands with a storage pocket for all your running essentials, such as keys, cards, cash or gels, printed with your choice of marathon or half marathon splits. Use promo code PPZERO during purchase to facilitate FREE DELIVERY on all orders.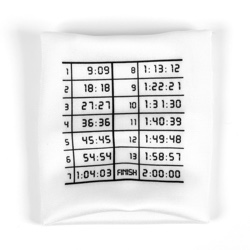 - Fabric wristband with storage pocket.
- Half Marathon split times printed on one side.
- Available options from 1h30 to 2h30.
Getting to the Race
Directions: Please navigate to Hartfield, CV21 3TR.
Parking: Designated race parking will be available, currently expected to be primarily at Rugby Town Football Club, Butlin Road, Rugby, Warwickshire. CV21 3SD. Further information will be communicated to all pre-registered participants in the week leading up to the race.
Further Information
Buggies/Pushchairs: This race is not suitable for runners with buggies/pushchairs.
Wheelchair Users: This race is not suitable for wheelchair users.
Earphones/Headphones: Noise-cancelling earphones/headphones are prohibited and whilst we discourage the use of other earphones/headphones at this event, participants choosing to use them should ensure they are set to a minimum volume such that instructions from marshals or other race officials can be clearly understood. We reserve the right to disqualify participants who cannot hear instructions as a result of their use.
Event Time-Limit: Whilst there is no strict time-limit for this race, in order that we adhere to the restrictions imposed by the road-closure schedule, it may be necessary for us to begin deconstruction of the registration/finish area(s) after approximately 3 hours to facilitate the removal of all equipment from the premises by the agreed time.
Social Media
For further information about our races or any race updates, please check our social media accounts;
https://www.facebook.com/TheRaceOrganiser/
https://twitter.com/Race_organiser
https://www.instagram.com/race_organiser
Join our Strava club to see how your fellow competitors are training and compare your race day performance.
Road Closures
Roads that are closed on or close to the race route will be closed for the minimum amount of time necessary. Our timing estimates shown on the road closure schedule are intended as maximum closure times - roads will not be closed any earlier than the stated closing time, but may open earlier than re-opening time.
Whilst we appreciate frustration for drivers, we do all we can to provide advance notice of closures and to keep disruption to an absolute minimum. On race day, our marshals and road safety officers will provide current, accurate information to the best of their knowledge with respect to timings and alternative routes. It is hoped that the benefit to the town and all those running or spectating is greater than the disruption caused by temporary road closures. If you are unable to travel by road for a short period during the race, please be patient. Abusive or intimidating behaviour towards staff and volunteers will be reported to the police. For details on roads that are closed or popular routes that are affected, please see our schedule of road closures below.
(1) Langton Road - The entire length (Road closed 09:25-09:30)
(2) Lower Hillmorton Road - From its junction with Langton Road to its junction with Kingsley Avenue (Road closed 9:30-09:45)
(3) Kingsley Avenue - The entire length (Road closed 9:30-09:45)
(4) Hillmorton Road - From its junction with Kingsley Avenue to its junction with Ashlawn Road (Road closed 9:30-09:45)
(5) Ashlawn Road - From its junction with Hillmorton Road to its junction with Barby Lane (Road closed 9:30-09:50)
(6) Barby Lane - the entire length (Road closed 9:30-12:00)
(7) Rugby Road - the entire length (Road closed 09:30-12:00)
(8) Onley Lane - The entire length (Road closed 09:30-12:00)
(9) St. Peters Road (Road open - controlled crossing)
If you require more information please contact us at info@theraceorganiser.com