Description
Bring out your best marathon in Autumn 2021 by preparing thoroughly for your big race day. Our Marathon Prep offers the perfect race day rehearsal and long run training in one event with options for 16, 20 or 24 mile distances.
Scheduled 4 weeks before the Virgin Money London Marathon and conveniently before other major marathon events, both in the UK and internationally, we'll provide the ideal conditions to practice your pacing, fuelling and endurance amongst hundreds of other runners to help you head into your marathon feeling prepared and confident.
Set at the spectacular, flat and smooth-surfaced Dorney Lake near Windsor, the course takes you around the perimeter of the water with fuel and water stations placed every 2 miles. Pacers, mile markers and chip-timed results will make it as easy as possible to get your pacing right, so that you can focus on your run and practice refuelling and rehydrating during a race.
Subject to availability, we expect pacers to be running the first 20 miles, clearly marked with target marathon times between 2h45m and 5h30m.
Not sure on which distance you should run? Don't worry, all three of 16, 20 or 24 miles have the same entry fee and you can change your mind at any time. Prior to Sunday 29 August, you can drop us an email but otherwise just tell us at the event - before the race at registration or, if you change your mind mid-race and decide to run one or two laps more/fewer than planned, as soon as you finish.
You'll also receive a Marathon Prep medal, replenishing food and drink and your chip-timed result as soon as you've crossed the line.
Any questions about Marathon Prep? Just give us a call on 020 7684 7185.
Don't miss the chance to prepare for a great marathon race day - take this opportunity to rehearse your;
race day nutrition
race preparation and travel
running in a busy race situation with a marked out course that is new to you
running in all of your marathon race kit
race rehydration and refuelling
recovery and strengthening.
From as little as £25, you can't afford to not prepare for your big day. Due to Dorney Lake capacity and ensuring a great, safe race experience, places are limited. Enter online now.
On entering this event, you can expect to receive a booking confirmation email within 10 minutes. If you find you do not receive one, please check your spam/junk folder. Further event details will be communicated via email (to the address provided during registration) during the week leading up to the race.
Race Details
When: Sunday 5th September 2021 at 9:30am.
Where: Dorney Lake, Eton College Rowing Centre, off Court Lane, Dorney, Windsor, Berkshire. SL4 6FJ. (Please note that this postcode has recently been updated from SL4 6QP but may not have propogated to any satnav software you may be using. Please navigate to Dorney Lake if unsure).
Pricing: £27 Unaffiliated, £25 Affiliated, £0 Gold Members.
Entry on the Day: Subject to £2 surcharge (cash only, subject to availability).
Age Requirements: Participants must be aged 18 or over on the day of the race.
Registration: From 8:00am to 9:15am.
Race Numbers: For collection at registration on the day only, numbers will not be posted. To be fastened to the front of your top using safety pins provided at registration, your number should be visible at all times. Your timing chip is attached to the back of your number and should not be removed.
Timing: Chip-timed.
Route: The course consists of 4 flat and smooth laps on tarmac path around the perimeter of the lake and is suitable for runners of all abilities. Please always be vigilant of other runners, spectators, dogs, cyclists and other users of public footpaths and rights of way.
Licensing: This race will be licensed with UK Athletics and the results submitted to Run Britain within a week of the race.
Pacers: Subject to availability, we expect to have pacers running the first 20 miles, clearly marked with target marathon times between 2h45m and 5h30m.
Facilities
Bag Drop: Whilst we would recommend bringing as little as possible, you can leave your belongings with us while you race using the tear-off baggage strip on your race number, collecting after you finish by showing your number.
Toilets: Portable toilets will be available at the start/finish area, passed on each lap.
Race Marshals: Marshals will be present on the course throughout the race.
Distance Markers: The route will be clearly indicated with arrows, tape and distance markers where necessary.
Water/Fuel Stations: There will be water/fuel stations on the route every 2 miles at which water will be provided in recyclable plastic cups.
Goody Bag: All runners will receive water and snacks on finishing the race.
Refreshments: Refreshments will be available in the main building throughout the event.
Changing/Showers: Changing and shower facilities will be available at this race.
Lost Property: Lost property from an event will be kept for one month. If unclaimed, or ownership cannot be determined, lost property items will be donated to charity.
Results
Results: Results will be uploaded live to our website (internet connection permitting) and communicated to all pre-registered participants within 24 hours of the event.
Medals: All finishers will receive a medal on completing the race.
Pace Pockets are also available for purchase from www.pacepockets.run. Pace Pockets are fabric wristbands with a storage pocket for all your running essentials, such as keys, cards, cash or gels, printed with your choice of marathon or half marathon splits. Use promo code PPZERO during purchase to facilitate FREE DELIVERY on all orders.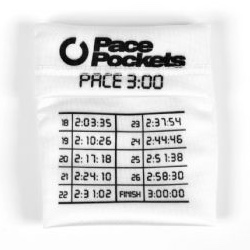 - Fabric wristband with storage pocket.
- Marathon split times printed on both sides.
- Available options from 2h45 to 5h30.
Getting to the Race
Directions: Please visit the venue website for further information on getting to the race.
Parking: Parking is free for The Race Organiser Marathon Prep participants.
Further Information
Buggies/Pushchairs: This race is not suitable for runners with buggies/pushchairs.
Wheelchair Users: This race is suitable for wheelchair users, we only ask that you start at the front of the field, 5-10 minutes before the scheduled start time and be vigilant of other runners overtaking during the race.
Earphones/Headphones: Noise-cancelling earphones/headphones are prohibited and whilst we discourage the use of other earphones/headphones at this event, participants choosing to use them should ensure they are set to a minimum volume such that instructions from marshals can be clearly understood. We reserve the right to disqualify participants who cannot hear instructions from marshals as a result of their use.
Event Time-Limit: In order that we adhere to the restrictions imposed by the venue hire agreement, there is a time-limit of 4 hours for this race. We would request that you select a distance you are able to complete in the time available. In order to complete the 16-mile race within the time limit you will need to be able to run 15-minute miles. For the 20 mile race, you will need to be able to run 12-minute miles. Finally, for the 24-mile race you will need to able to run 10-minute miles. It may be necessary for us to begin deconstruction of the registration/finish area before this time to facilitate leaving the premises in the time required.
Social Media
For further information about our races or any race updates, please check our social media accounts;
Join our Strava club to see how your fellow competitors are training and compare your race day performance.