Description
A great opportunity to run on closed roads on a fast, flat course! Voted 3rd in the 'PB Potential' category in Runners World Races of the Year 2013 Awards. Suitable for beginners, PB-Hunters and competitive athletes alike.
Now in its 10th anniversary year, the Maidenhead Half Marathon is an established favourite in the local race calendar; it is known for its enthusiastic spectator support, impeccable organisation and most of all its undisputed PB-potential. Held on closed roads around urban Maidenhead and scenic Cookham, this is a fast race on a flat course and will delight everyone whether you want to improve your race time or embark on your very first half marathon.
Frequent pre-race communications and a friendly and welcoming crew on the day will ensure that you know all you need to about the event and are set to enjoy your run whatever your goal.
The town centre start and finish means that parking and other facilities are close by - the race village right next to the start/finish gantry provides number pickup, enquiry point, toilets, supervised baggage-drop, hot and cold drinks and refreshments for carnivores, vegetarians and vegans alike.
Spectators and supporters are well catered for whether they want to visit the nearby town centre shops and cafes, soak up the atmosphere in the race village and cheer the runners in to the line.
All finishers receive a bespoke commemorative medal and there are age-group prizes as well as prizes for the first local (SL6 postcode) male and female. Chip timing is used to ensure accurate results which are uploaded live during the race.
---
On entering this event you should receive a booking confirmation email within 10 minutes. If you fail to do so, please check your spam/junk folder. Further event details will be communicated by email (to the address provided during registration) in the week leading up to the race.
---
***If you are an ever-present runner, have participated in every race since the inaugural event in 2011 and wish to keep your original race number, please ensure you state it when requested during the registration process. We will only accept specific race number requests made prior to 16th August 2020 and will validate where necessary***
---
Saturday 5 September
11:00am-3pm Race packs available to pick up @ Nicholsons Walk Shopping Centre, Maidenhead SL6 1LB.
11:00am-3pm Entries available for the Half Marathon.
Sunday 6 September
7:45 to 9:15am Race Pack pick up and entries on the day open.
9:30am Half Marathon starts.
10:40am (approx) Half Marathon winner finishes.
11:45am (approx) Half Marathon Prize presentation.
---
Race Village:
The Race Village is in Maidenhead United Football Club, Bell Street, Maidehead, SL6 1BU.
---
Car parking:
There is NO street parking in or around St Ives Road. There is plenty of FREE car parking on the day in the town centre at 1) Hines Meadow car park, St Clouds Way and 2) Nicholsons Walk car park, Broadway. Both car parks are a short walk away from the start/finish area.
---
Race Numbers & Chips
Race Packs can be picked up at either of the following times:
Saturday 5 September 11am- 3pm @ Nicholsons Walk Shopping Centre, Maidenhead SL6 1LB,
OR
Sunday 6 September 7:45am-9:15am @ "Number Pick-Up" desk in the Race Village at the start/finish.
Wherever possible, please pick up on the Saturday to avoid the rush on Sunday morning!
If you want someone else to pick up your pack for you – please either give them a note or send them an email to print out and bring with them. We will be taking Late Entries on both days.
Late entries (Sat & Sun) have a surcharge of £6.
---
Start Time:
The Half Marathon starts at 09:30. Please leave yourself plenty of time to park your car, pick up your number & chip (if you haven't done so on the Saturday), check-in your bag, use the toilets and warm up!
---
Race Number:
Secure your race number securely to the FRONT of your running top using four pins. If you have a medical condition that will need consideration, please mark the front of your number with a cross and write details on the back. Race numbers must not be passed on to another runner.
---
Chip:
Your chip will be on the back of your race number – be sure not to tamper with it in any way or your time may not be recorded. Your chip number may or may not tally with your race number – don't worry about this!
---
Late Entries:
We will be taking entries on both Saturday and Sunday (see box above) for the Half Marathon. If you are registering on the Sunday, please go to the "Entries on the Day" desk in the Race Village in plenty of time to register and pick up a number & chip. Late entries (Sat & Sun) have a surcharge of £6.
---
Information Desk:
There will be an info desk in the Race Village. Please don't ask questions of the staff giving out numbers or taking entries – please go to the info desk where the staff will have more time to deal with your enquiry.
---
Medical:
Please advise us if you have any medical condition that we should be aware of. In addition, please mark a cross on the front of your number and write this information, with your name, emergency contact and telephone number on the back of your number. If you have been unwell or injured in the days before the race, please do not start. Check with your doctor if you are unsure.
---
Baggage:
You will be given a baggage tag when you pick up your race pack. Tie the baggage tag to your bag before taking to the baggage zone. Be prepared to show your race number in order to retrieve your bag afterwards.
---
The Route:
The race route is road, flat, fast and traffic free - it is a two-lap course taking you alongside the river to Cookham, before returning to Maidenhead.
---
Pacers:
Subject to availability, we expect to have pacers at this event with target half marathon times between 1h30m and 2h30m.
---
Marshals:
Marshals will be stationed along the route at strategic points – please comply with instructions given by the marshals.
---
Toilets:
There will be portable toilets in the Race Village. There are no race toilets along the route, however, there are public toilets in Cookham as you turn left into School Lane at (please note – they are 100m past School Lane turning, off the course).
---
Water:
There will be water stations at approximately 3/6/9/12 miles and at the finish. There will be no water at the start, so please bring your own supply if you need a drink beforehand. Please dispose of your cups in the bins provided after each water station. Water only will be provided at the water stations.
---
First Aid:
Medical services are provided en route; if you are unwell or injured and unable to complete the course, please wait with a marshal until you can be picked up.
---
Prizes & Presentation Prizes:
The main race presentation will take place at approx 11.45am. Prizes will be given to 1st, 2nd, 3rd Male & Female (regardless of age). 1st Male & Female in the following categories: V40, V50, V60, V70+ will also receive a prize. There will be a prize for the 1st Male & Female Maidenhead runners (SL6 postcode).
---
Medals:
Each finisher will receive a special medal commemorating the event.
---
Results
Results will be published via our website shortly after the last runner is home. There will also be a full write-up with photos and results in the Maidenhead Advertiser the following week.
---
T-Shirts/Pace Pockets
Special souvenir t-shirts and hoodies are available for purchase during the order process. Please note that pre-purchased t-shirts and hoodies must be collected at this race and will not be available for collection at any other events.
Pace Pockets are also available for purchase from www.pacepockets.run. Pace Pockets are fabric wristbands with a storage pocket for all your running essentials, such as keys, cards, cash or gels, printed with your choice of marathon or half marathon splits. Use promo code PPZERO during purchase to facilitate FREE DELIVERY on all orders.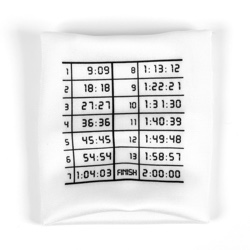 - Fabric wristband with storage pocket.
- Half Marathon split times printed on one side.
- Available options from 1h30 to 2h30.
---
Refreshments:
A selection of hot and cold food and drinks will be available in the Race Village and there are of course many outlets in Maidenhead town centre itself, a short walk from the start/finish area.
---
Spectators:
With a town centre start/finish, free car parking and a two-lap course, this is a perfect spectator race. If spectators plan to wait at the start/finish, there is plenty to do and see in Maidenhead town centre, where you can get some lunch, do some shopping or just relax in one of the parks.
---
Social:
For further information about our races or any race updates, please check our social media accounts;
Join our Strava club to see how your fellow competitors are training and compare your race day performance.